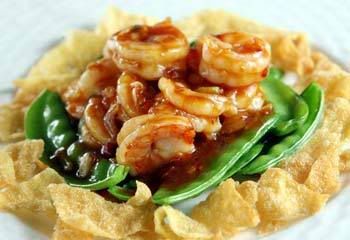 These should come with a warning. Especially when consumed at 11pm on an empty stomach. I should have had lunch. I shouldn't have reached for my delivery book (yes, there's so much food delivery that the listings are in books) when I got home late and hungry.
But all I found in my fridge was three fuji apples. And this was not the kind of raging, gnawing hunger that any fuji would calm.
It's too damn easy in this town to get chili prawns delivered hot to your door at 11 o'clock at night. And they are way too good to resist even when I should have known better. Today I will eat lunch no matter how crazy my day turns out.
But right now I'm suffering from the revenge of the dreaded chili prawn and my tummy is in knots. I've had a couple of glasses of soya milk and I am hoping that will help. That and a handful of Maalox. Or two.

Update: Lunch today, California Rolls