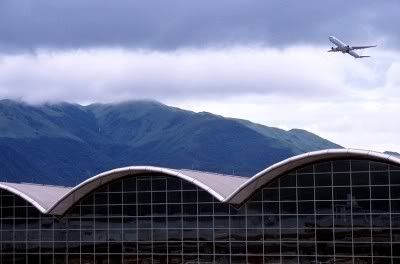 "Fi ..... we don't need you to post, we need you to take good care of you .... hmmm ... maybe you need a vacation."

So sayeth Sunny. Yep, that sounds like a perfectly wonderful suggestion, my wonderful friend. And guess what, we've got it all planned!! On Sunday I'll be taking off over that airport, on my way across the Pacific. For not one, not two, not three, not four, but .....


fun-filled, love-packed, sensually-charged days and nights with my man.

I've got a lot to get done at work over the next day and a half, given that I'll be away all of next week, but all will be well. And come Sunday morning at 8:30, I'll be buckled into seat 62G on the first leg of my journey. Roughly 24.5 hours later, including connections, I'll have his arms around me.
Am I excited? I'm beyond excited!!!!!! He was even laughing at me this morning, he said he could hear the incredible excitement and happiness in my voice. Boy oh boy, he thinks I SOUND happy and excited, just wait until I get my hands on him!!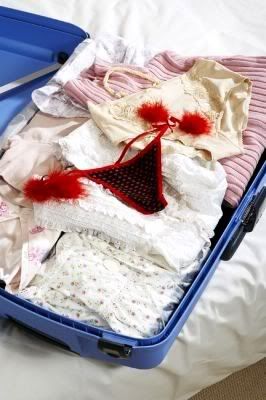 I couldn't resist that pic - it made me laugh when I realised a fur ball-accented thong is placed atop of a pair of Bridget Jones-style knickers!! Talk about covering all bases .... or not.
And for those enquiring minds, I own neither style of fanny-covering. I'm very much a high-cut brief kinda gal, and boyshorts are incredibly comfy, too. I do love the look of the brazilian cut but I have way too much derriere for them, they end up looking (and feeling) like a thong on me!