(Oh my goodness, I never realised this would end up to be such a long post, so I'm breaking it into two parts)
Mentoring
-- from the Greek Mentor, a friend of Odysseus entrusted with the education of Odysseus' son Telemachus -- is defined as a sustained relationship between a youth and an adult. Through continued involvement, the adult offers support, guidance, and assistance as the younger person goes through a difficult period, faces new challenges, or works to correct earlier problems. In modern management, it denotes the relationship between one more experienced and one less experienced, and the process of sharing in order to help the less experienced person advance in their career.
Sometimes mentors are thrust upon us according to programmes companies implement, sometimes we find our mentor more naturally, by chance or fate, or because we are simply meant to share in this way.
But first, a little personal history:
In 1977 I finished my A Levels at a crammer in Kent, England, after completing Form 5 only two years earlier in Hong Kong, with one GCSE, in English Language. And as a native English speaker, to have failed that would have been virtually impossible. I felt so defeated, at no point during my school years was there any indication I wasn't learning the right stuff, nor enough of it. I also knew that I had to remedy this, and do that fast, so I got hold of a directory of independent schools in the UK and pored over it, finally selecting a small crammer in Sevenoaks, Kent which specialised in people like me! I sought and obtained my dad's approval and he and my mum took a visit over to check it out. I'll be forever grateful to him, because although he couldn't really afford it, he dug deep for me to get me back on track.
So, over the next two years I studied for, and obtained, five O Levels (English, English Literature, History, Geography, Biology) in the first year and then two A Levels (English and History) in the second year. I'm really not sure how this equates to the US system, except that with the A Level qualifications, you are ready for University entrance.
I still wonder how I finished my standard education without anyone realising I hadn't actually had one - it wasn't about not studying or applying myself. Because I did. The school certainly left a lot to be desired but still, how did I get to be almost 17 and at the end of an important period of education, with that measly qualification in my hand? And how, five years before that, had everyone allowed me to totally cease any kind of mathematical learning because I couldn't keep up? I do accept that no one had diagnosed my difficulties in mastering anything mathematical, as being rooted in my being
discalculic
.
Anyway, after pushing myself through those two years of hell (I really had no grounding in anything in the syllabus), I came home with very unstructured career thoughts. The crammer, I later found out, specialised in educating 'the landed gentry', you know, Lady this and Countess that - to give you an indication, though these names may not mean much to many, I spent those years with the likes of (name dropping) The Hon. Laura Lloyd of Lloyd's Bank, Lady Liza Campbell of Cawdor Castle, one of the Guinness girls and Christa d'Souza who is a renowned journalist and an Editor with Vogue. (I really liked Laura and Christa!)
The careers counsellor who met with us all at the end of our A Level examinations had only one suggestion for me - social worker. Back in Hong Kong, my thoughts were stuck at: either a journalist, speech therapist, or probation officer. I had enough academic qualifications for somewhere to accept me, though it certainly wouldn't have been a first or even second tier university. The problem was, my family couldn't afford it. As we had lived in Hong Kong so long, I no longer qualified as a 'home' student in the UK and the fees for overseas students were exorbitant. My dad had already cashed in his life insurance policy to pay for my two years in the crammer.
So I lazed around at home, pissed off a bit about not being able to pursue my goals (Hong Kong only had one University at the time and you might as well forget that unless you had at least five A Levels, the competition to get in was that fierce). I moped and moped around the house, annoying both my parents, for several months, not knowing what to do next, until my dad lost his patience with me. He came home one day and said: "Right, you're going to secretarial college." Oh.My.God. He wanted me to be 'just' a secretary. JUST a secretary. I was aghast. That he thought so little of me. I'm not putting secretaries down, goodness knows my career started off there, but in those days it was already considered a non-career choice.
Aghast, but still a conformer, I enrolled in a local college specialising in secretarial studies, in their one-year 'Diploma in Executive Secretarial Studies'. And I excelled. Top of the class. The college actually put me to work before I'd finished the course, in their temporary division, helping with high-profile police transcription cases. I had to sign the Official Secrets Act. Then when I finished the course I had such high shorthand speeds they were pushing me to be a court reporter. I didn't fancy that so I went to work for them in their temporary division, placing people for them. That was after turning down a teaching job with them. I had NO experience and really didn't want to teach when I hadn't actually worked anywhere yet.
After a while, my father heard of a job in a company where he knew the Managing Director, so being the good little girl that I was, I went to be a secretary in the world of measuring and weighing cargo. Oh and tallying too....hey mister tallyman, tally me bananas. Gosh, the excitement of it all was almost too much to take!!! I excelled there too, well it wasn't exactly a huge stretch, and ended up the Managing Director's Personal Assistant, but the scope and nature of the work was just so utterly boring. And there was never enough to do. I used to have to pace myself to make sure I had some work to keep me busy in the afternoons. Plus the office was right next to my dad's so my work life for five long years was pretty much an extension of my home life (I was still living at home) and finally I decided to quit.
Oh boy, that didn't go down well. I was quitting before I'd found another job. It took me a good long while and lots of interviews, with lots of offers, and lots of temporary assignments to keep some money coming in, but I just had to find something interesting. I was offered a great job with an amazing salary, working for someone in the bathroom fixtures and fittings business (yes, ladies and gentlemen, the TOILET business), and when I turned it down my father actually said to me: "Fiona, you'll never work again!" I laughed, I just knew something right would come along for me.
And that is when I had the amazing good fortune to find myself working for Peggy, an incredible woman who has influenced my life in the greatest and deepest of ways. She became my mentor for five extraordinary years and is a lifelong friend.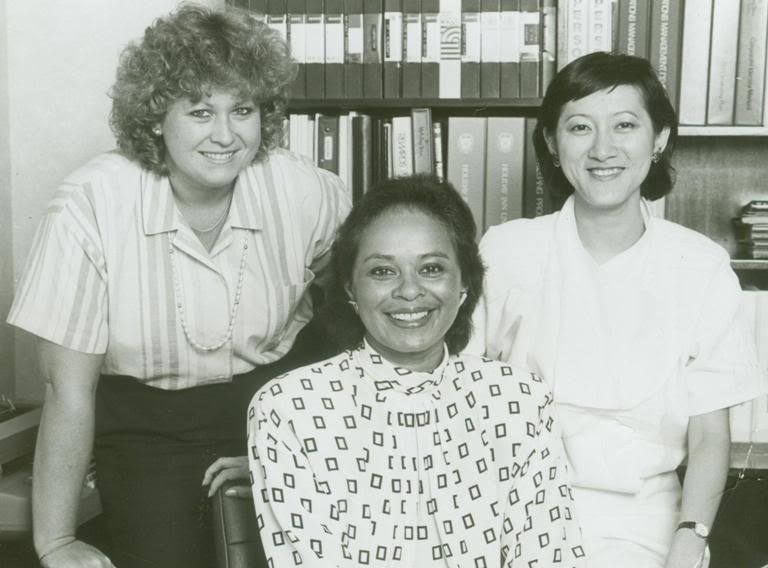 Left to right - Fiona, Peggy, Lydia (August 1985)